Charlotte slept until 7am yesterday morning. This was shocking since she usually starts to rouse around 5-5:30am, if not earlier. Did I enjoy some much needed rest? Nope. Instead I played the part of the neurotic mother, and it was Oscar worthy. When I awoke at 5:30am and didn't hear a peep, for one brief moment I thought, "Oh good, I can sleep some more." This quickly faded into anxiety about suffocation in blankets and other nightmarish ideas. I cranked the monitor WAY up and prayed for Charlotte to make some kind of noise in her sleep to let me know she was fine. God, answered and the fear of blocked air ways passed. Finally, I could sleep. Hahaha. I said I needed an Oscar for this role didn't I?! My brain cranked into overtime as I wondered why on Earth Sha-Chi was still dozing. Excessive sleep is one sign of shunt malfunction, so many fears started looming in my heart. I got up, made coffee, and tried to tell myself she was fine. Consequently, I am pretty terrible at convincing myself of anything. She finally awoke around 7am, and I prayed she would be playful the rest of the day, that her eyes would look normal, that she wouldn't be excessively fussy or tired, and that there would be no vomiting (all signs of shunt malfunction).
Charlotte is doing great, fears were all for naught. In fact, she is rolling around on the floor with her new favorite toy: a tape measure. I try to be cool, calm, and collected, yet anxiety can quickly take the place of peace and contentment. When I was worried about the shunt malfunctioning a few weeks ago, my father said, "So what if her shunt malfunctions?" And it made me think, what if it does? It's almost inevitable. I know the signs and what I need to do. The doctors have proven themselves more than capable, and most importantly, God has proven himself trust worthy. Why do I not want to let go, to hand over her shunt, her wandering eyes, her unformed hip, her lack of muscle, all her issues to the one who created her and loves her more than I do?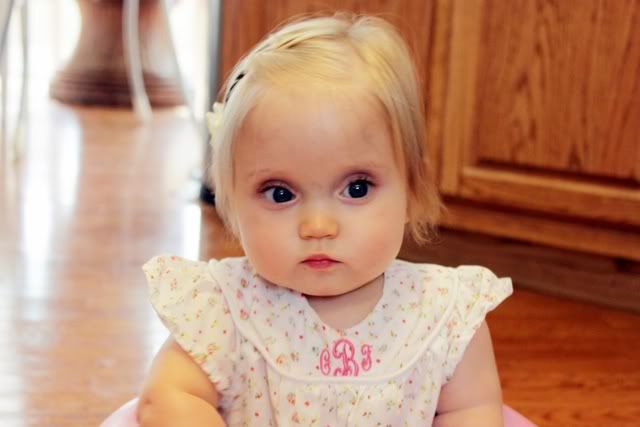 I think it is a mother's biggest struggle: with unclenched fists and an open heart, put her children in God's hands. Sometimes, I wonder if I love Charlotte too much. Yet, I don't think that is really the case. I think my problem is that I don't know God well enough. It is something I'm working on; to know God well enough that all of me wants all of Charlotte under His control.
-----
This summer is flying by at ludicrous speed. We are trying to soak it all up, from the blistering hot days to days consumed by the darkness of a summer storm.
We're having fun:
Playing in the nursery with Nana:
Swimming at the Smith's wonderful pool:
"She wore an itzy bitzy, teeny-weeny, PINK polka-dot bikini..."
Thank you so much Jennifer! We hope to be back soon!!
We had guest 4th of July weekend. My father, brother Will, and his girlfriend Nadia came down for a night. Most of the time was spent catching up, laughing, and lounging. Charlotte adores her Papa and especially loves to take a nap in his lap.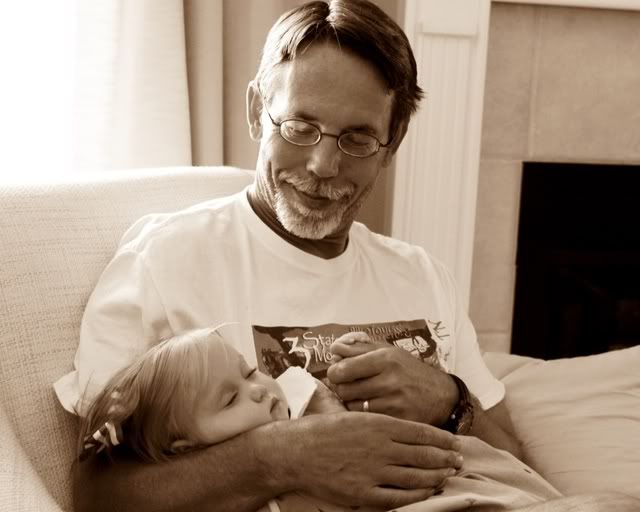 Or just snuggle:
That night we headed over to my in-laws for a delicious 4th of July celebration.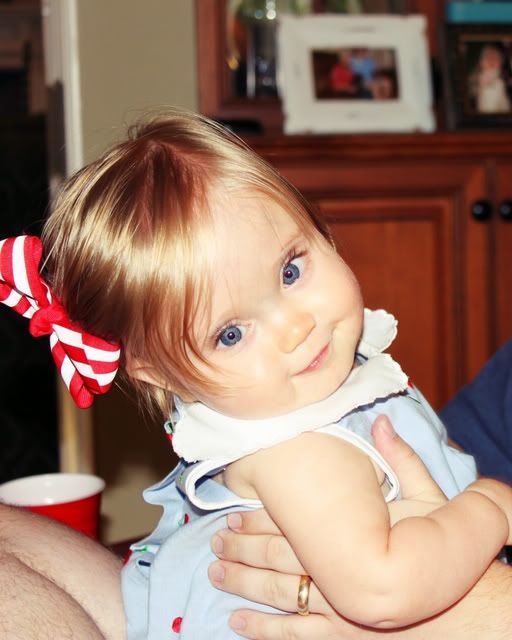 Charlotte loved pulling out her patriotic bow that I found at Walmart for a buck. She also loved playing on her Pawpaw's lap.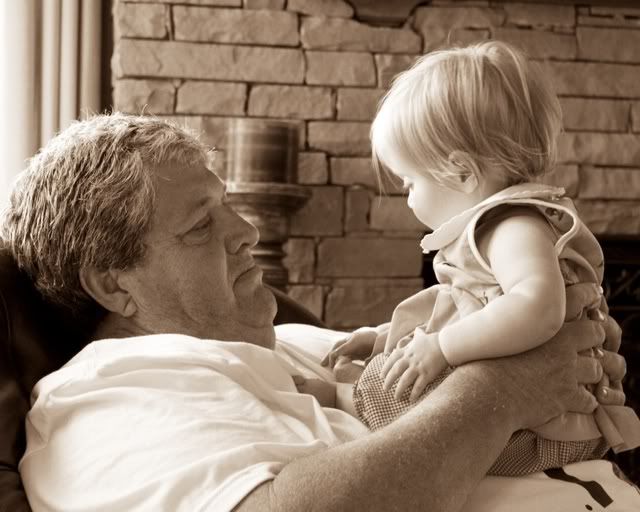 There is something awesome about watching your children interact with their grandparents.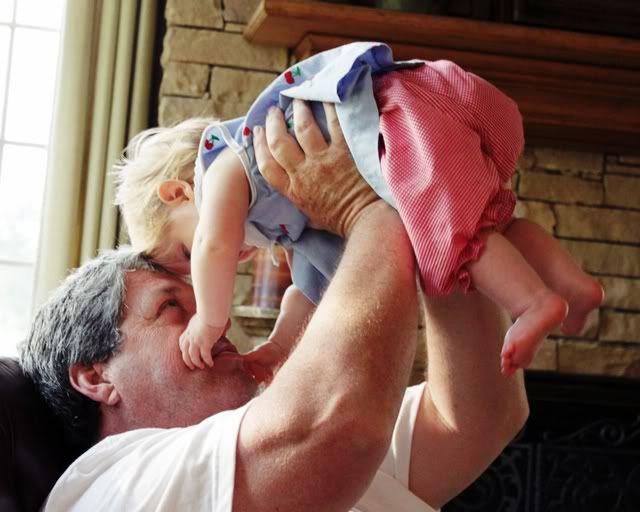 ----
Charlotte continues to handle the patches amazingly well. As promised I have more photos of their various designs. Hope they make you laugh as much as they do me!
Sunglasses and winking!!!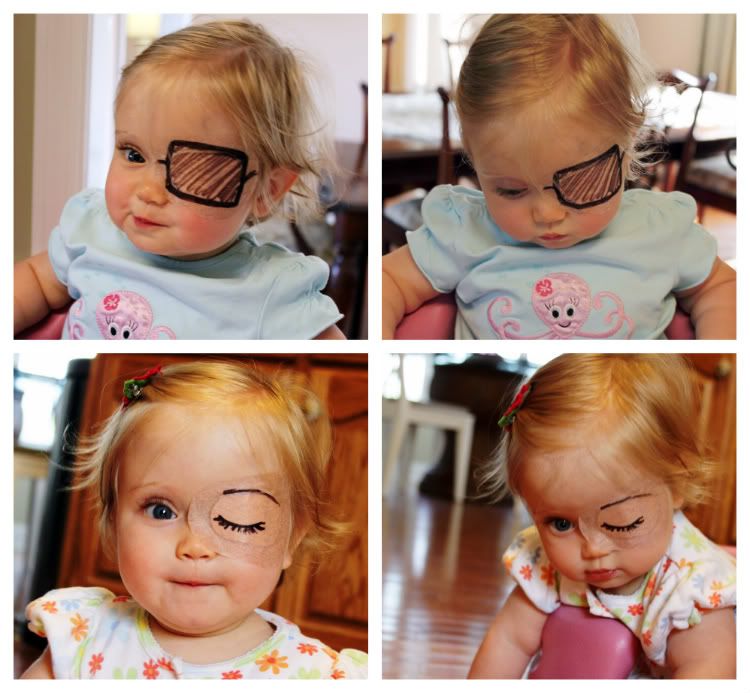 And my personal favorite: Studious Charlotte.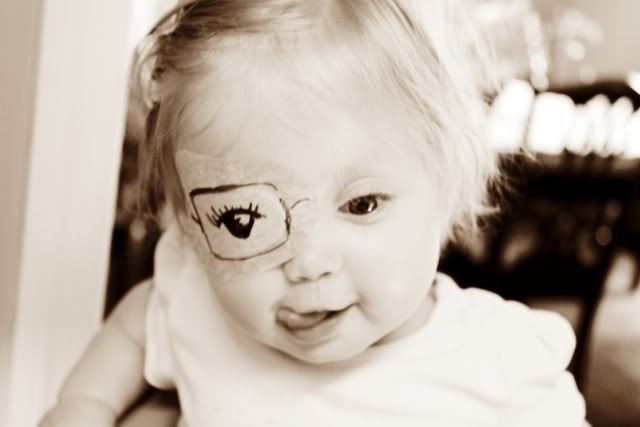 She is just trying to be like her Papa.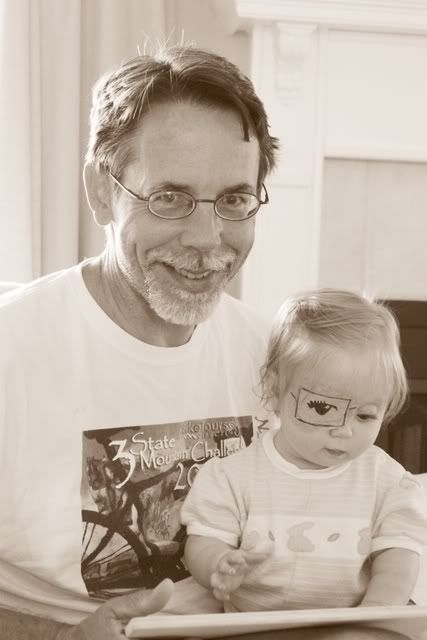 Plus, Charlotte needs her glasses for reading.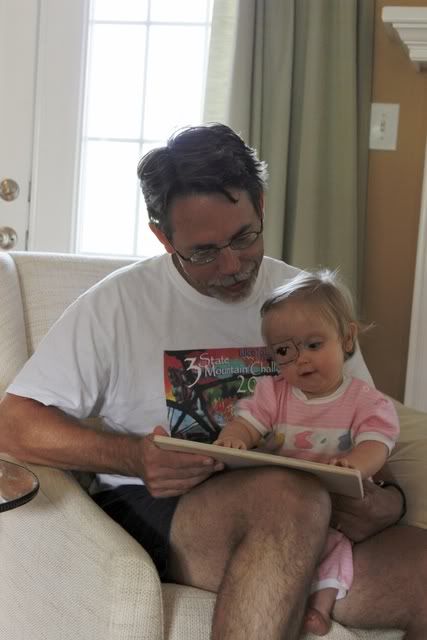 The patch designs keep me laughing and the mood light. Yet, I still love to see both those eyes looking up at me. Her eyes which make me realize the depth of my ability to love is beyond reason.