My posts have been few and far between lately. Have I been cleaning and dusting fans like I should? NOPE. Have I taken up a regular exercise routine? HAHAHA. Have I been cooking delectable and nutritious meals? NADA. Have I been teaching Charlotte her ABC's? WRONG ANSWER. Have I been spending way too much time crafting and littering every surface with fabric bits and burning my fingers on a hot glue gun? DING DING DING CORRECT ANSWER.
Yep, that is where every spare moment has been spent. I started off doing some crafting for Charlotte's birthday party, and then my need for art took over. Yes, the room is an utter mess, but I have to say that it has been wonderful to feed my creative side; even if the products leave something to be desired. I've got pictures of a few of the projects and will try to post more this week. However, her b-day crafts I'm saving for a special post after the event. Thinking about it makes me go all misty eyed, where does the time go?
Outfits:
Can you tell I like bows?!
Hair Accessories:
And just for fun: Clapping
Charlotte is a clapping fiend these days. It's her response to just about everything. We keep on trying to teach her to wave bye-bye, but Sha-Sha prefers to clap instead. Charlotte also claps heartily before and during a meal. Can't blame her, there have been times when I've wanted to do the same; especially after brownies and ice cream.
---
We have done more than craft these past two weeks. We had an absolutely wonderful visit from two of my lifelong best buds, Claire Park and Meghan Patton. It was another one of those days where we had such a good time that I completely forgot about the camera. With true friends, I love how you cannot see each other for ages, but when you reunite it is like no time has passed. I'm trying to talk them into moving from Atlanta to Scottsboro. I mean what does Atlanta have that Scottsboro doesn't? :) Claire and Meghan, if you are reading this: you have always made and continually make my life more full of joy by your friendship!
Visits continued with a quick trip to Birmingham to fellowship with grands, great-grands, aunts, uncles, and cousins. Then it was back to the Boro with Chicha, Aunt Dana, and cousin Lia in tow. I love that these girls are growing up together.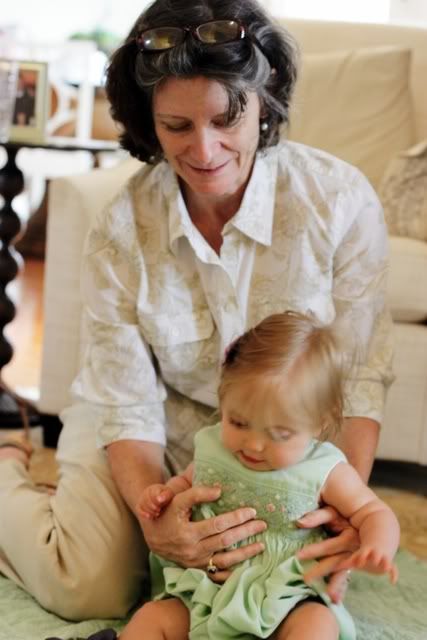 As always it was wonderful to have a day filled with girls!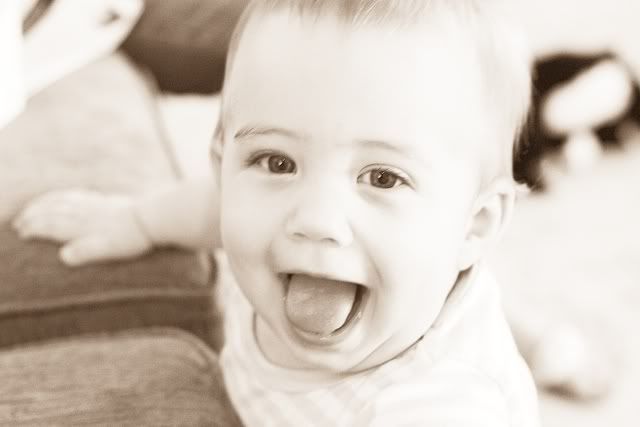 Charlotte and I also had the pleasure of visiting with our newest friend, Abigail Barber. She is perfect in every way and I am DYING to take more pictures of this precious baby.
Her mother, Ann, amazes me with her wisdom, energy and peaceful demeanour. And she ROCKS as a friend!
----
In other news: I can finally wrangle Charlotte's hair into tiny pigtails. She was more interested in the camera than her glamour shot.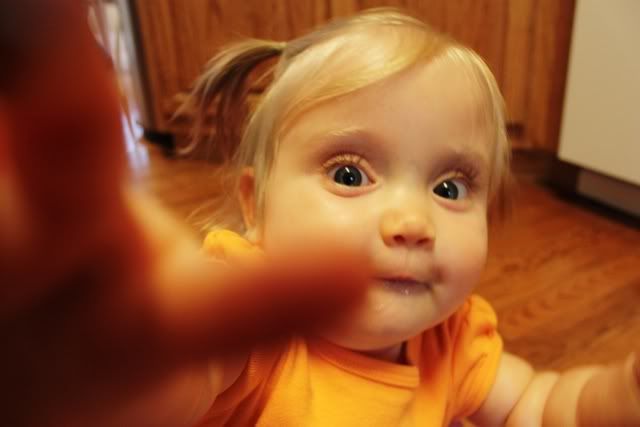 Puppy time is also part of the daily schedule.
Often, when I look at Charlotte I think she looks so much like Mary, Ben's mother. Yet she is still a mini-me of her Daddy.
Patching continues as part of the daily routine.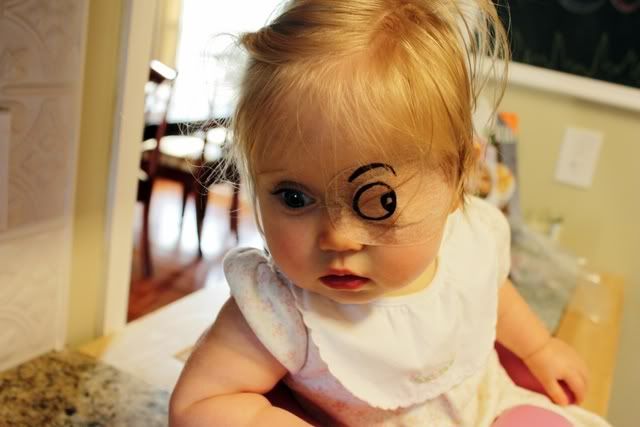 I will be calling Charlotte's Opthomaligist tomorrow to tell him how I think she is progressing. Unfortunately, I don't think she is getting much better. There were a few days where I thought she might be improving; however, the last few days have changed my mind. I would love your continued prayers in this regard and for wisdom on the next course of action.
----
I had planned on writing this blog earlier today; however, an overwhelming need for a nap kept me at bay. Does anyone else think that sheets feel especially good in the afternoon?? Maybe it's because a nap is a luxury where going to bed at night is routine. Naps are a luxury I don't frequently indulge in because: one, I have a very hard time falling asleep, and two, I normally have a list a mile long of other things I need or would rather do.
Yet today rest beckoned, and I conceded. As I lay under covers that felt mysteriously softer than at night, I thought of my growing up years. Sundays were always and continue to be a day of rest in my parent's home. We go to church, come home and eat a delicious meal around the dining room table, discuss the sermon along with politics, weekly events, and other subjects. But then words began to die out and everyone drifts to different sofas, beds, and recliners to find rest. Even when we were little kids, my parents enforced a rest time rule. We could play, but it had to be quietly in our rooms.
I lay in bed today not falling asleep but resting. I thought about God's call to rest on Sunday. Rest is highly undervalued in a society that places all it's stock in what one can accomplish. Thinking of God's call to rest reminded me that my to-do list is not the end all be all. I need to find time to rest, to restore my body, to renew my mind, and quietly listen to God's voice.
Charlotte quickly fell asleep in the crook of Ben's arm. I listened to her quiet murmurs harmonizing with Ben's deep breathing. I cuddle up to her and sunk into the smell of all things familiar. I touched her tiny hands, and my heart was full of love for these two people that lay sleeping beside me. I am blessed beyond measure.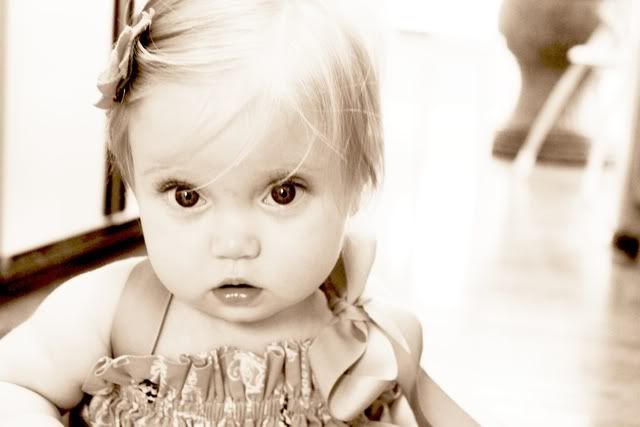 I take many pictures, but they can not capture every moment of love and happiness. There are moments like our family nap today that are beyond the realm of a camera. I told myself to remember this. Esther, remember how small she is cuddled up to her father. Remember the smell of sheets, Ben's deodorant, and Charlotte's no tangle spray. Esther, remember her small hands lying on her daddy's chest. Remember the warmth coming from the sun drifting through the window and the tiny toes brushing your legs. Remember the soft nursing sounds she makes in her sleep and how tenderly Ben's arm is wrapped around her. Esther, remember the joy and peace of this moment. Savor it. When life gets chaotic and trials come, remember moments like this. Remember all that your Heavenly Father has given you and find peace.