What a week. I'm still a bit shocked over what all has taken place. I'm praying for all those who lost their homes and loved ones during the storms. I read the stories, and it breaks my heart.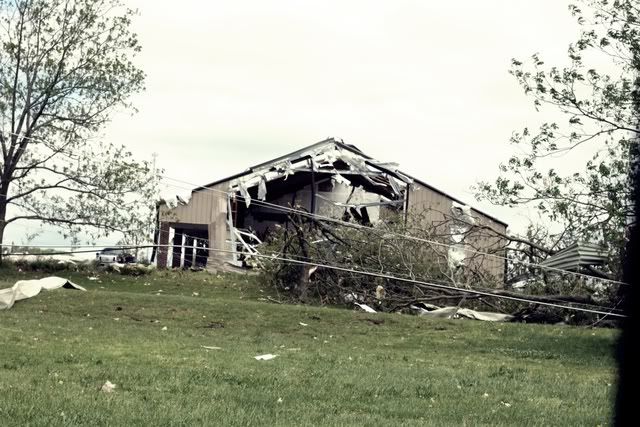 There has been so much lost. I pray that God will be a refuge for all those who are hurting right now.
I'd like to share what a joyful Easter we were able to have. Friday, we all headed to Covington for an Easter weekend with my family and to have Charlotte baptized at the church I grew up in.
We started the weekend events with a traditional Passover Seder meal. My family has done this for as long as I can remember, and I've always enjoyed it greatly. It's amazing to think that Jesus spoke similar words to His disciples so soon before His crucifixion. I hope that Charlotte will one day gladly participate in the service. And I'm not gonna lie; my mom makes the BEST unleavened bread. Thank you Henry for providing it this year.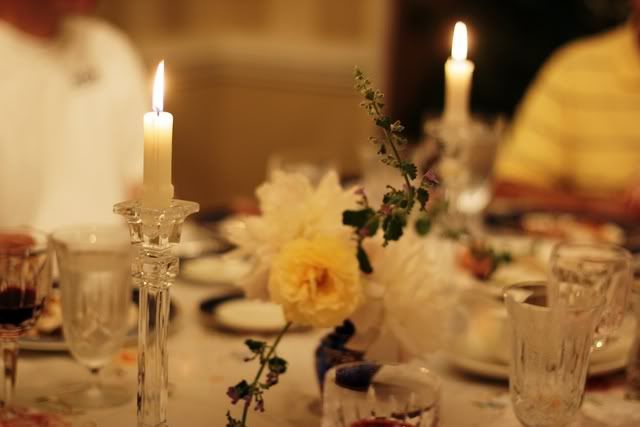 The girls did very well through the meal and only had an occasional melt down.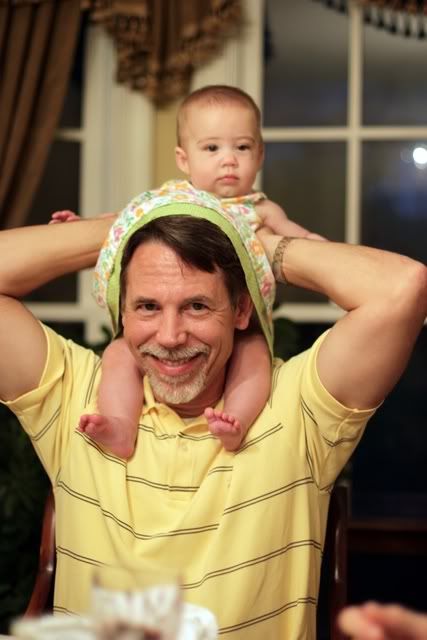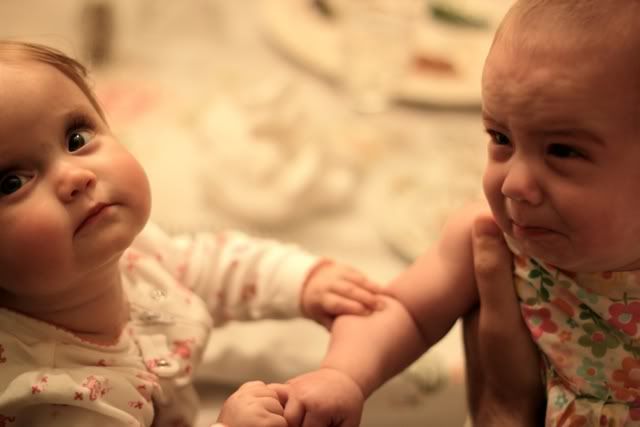 Lia: "quit pinching me!" Charlotte: "I'm not doing anything."
Saturday morning I gave Charlotte her Easter basket which I am fully aware she will not remember but for which I worked extremely hard on.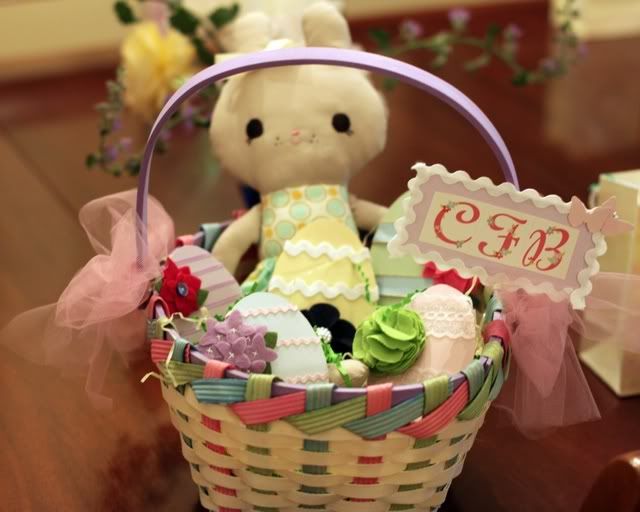 The eggs are made from paper, and the flowers are actually bows snapped to the side. I figured since she can't have candy yet, I would contribute to her ever growing hair accessory collection!
Later that morning the girls (Mom, Dana, Lia, Charlotte, me) headed to a lovely Easter egg hunt at longtime friends' house, the Patton's. The babies were great and although they couldn't hunt, seemed to enjoy watching the event. The rest of the afternoon I slaved away on pink champagne cupcakes with champagne buttercream icing and pink edible pearls. I really hoped they were worth all the effort!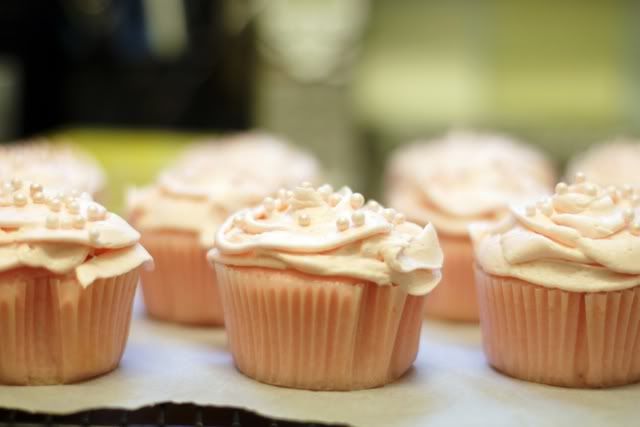 The rest of the day was spent enjoying the company of family...there is really no better way to spend a day.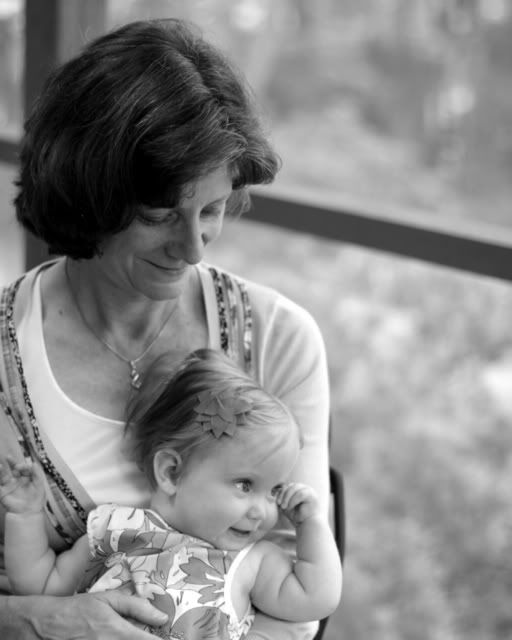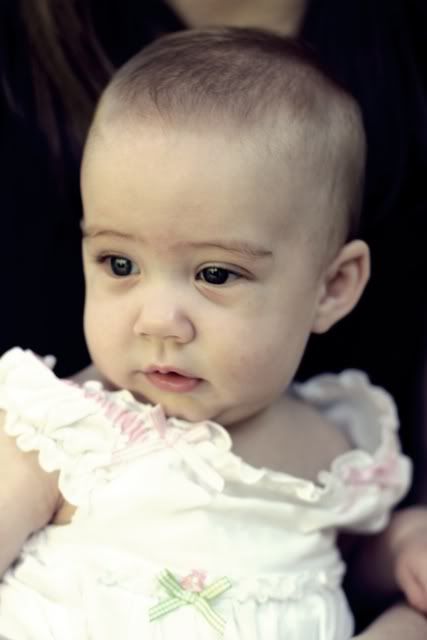 My niece Lia is a delight, and I'm actually going to do a picture post about her but thought I'd give you all a preview.
I made Ben take pictures of Charlotte and me in our matching outfits...yes, I'm a dork like that.
Sunday morning was a little hectic preparing for the days events, but I had fun arranging flowers for the table and watching as our Easter/baptism table took shape.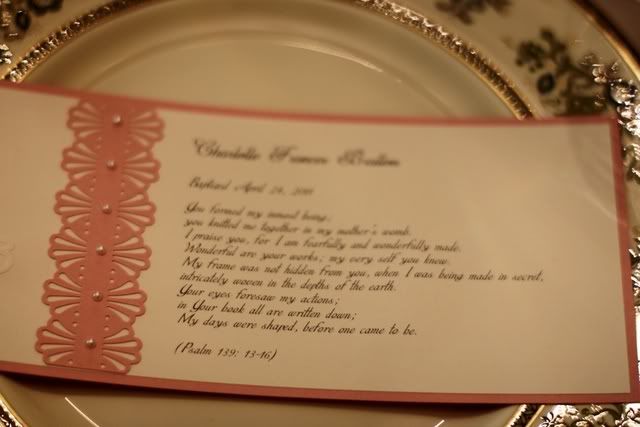 All was progressing well until my mom called me to ask about my cupcakes. Saturday, we had placed them in her office. The room was cool, and we wanted to preserve the icing. Well, my brother's dog Dakota had slipped into the office and eaten all but a few of my pink cupcakes, wrapper and all. It's ridiculous, but I'll admit I shed some tears over those cupcakes. It's hard to see hours of work disappear in a matter of moments. However, I got myself under control by singing "Christ the Lord Has Risen Today". There was still so much to be joyful about.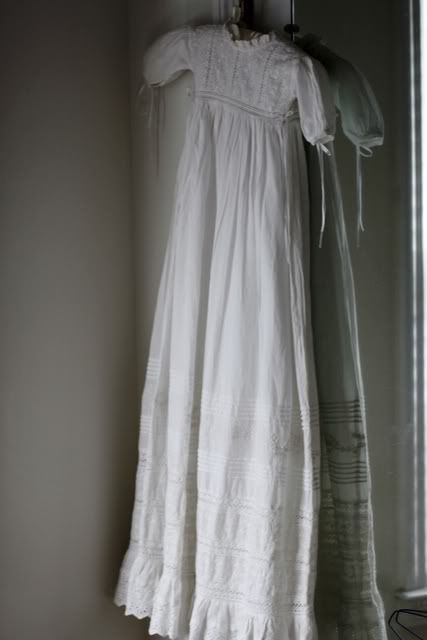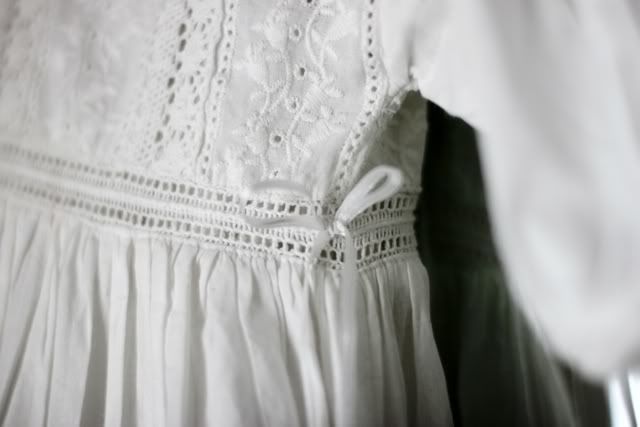 Charlotte looked so sweet in the baptismal gown, and one of my close friends
Meghan
was kind enough to take pictures of the day's events. Trinity was the place of my baptism long ago and has been an integral part of my journey in Christ. It was a blessing to come back and have my own child be baptized. The service was touching, and I cried as water was washed over her head and as my father and father-in-law prayed for her. My uncle was so kind to video tape it all, and my hope is that I can write down their prayers so that Charlotte can treasure them. After the baptism, Pastor Rob had the elders come up and pray over Charlotte and our family, both for physical healing and spiritual growth. I can't begin to express how much it meant to me. The prayers of both Trinity and Riverside have been such a blessing in my life.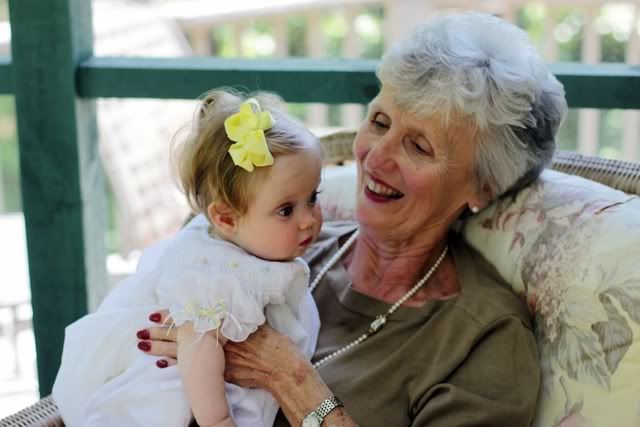 As I ate lunch and celebrated with my family, all I could think was how blessed I am. My hope is that both Charlotte and Lia will one day know the risen King and celebrate Easter as daughters in Christ. I praise God for His Son's sacrifice and rejoice that He arose and reigns on high. Oh, that these two girls would realize this at an early age and dedicate their lives to His glory. That they would sing:
"In Christ alone my hope is found; He is my light, my strength, my song;
This cornerstone, this solid ground,
Firm through the fiercest drought and storm.
What heights of love, what depths of peace,
When fears are stilled, when strivings cease!
My comforter, may all in all-Here in the love of Christ I stand."