So, I'm going to do something I'm not prone to do: picture posting!!! I've been delving into photography ever since Charlotte was born and finally decided to get a new camera. I LOVE it!!! And I thought my friends and family might want to take a peak at my meager photography skills. Yesterday the camera came in, and in between playing with Charlotte and scrubbing the bathtub (my arms are still soar- I HATE soap scumb!), I played around with the settings on my camera.
I thought the roses in my garden would be a good place to practice.
After Charlotte woke from her ten second nap, she was rather grumpy, but I was dying to snap away...
You would not believe how hard it is to get a clear shot of batting hands!
MANY pictures came out blurry!
She finally gave up the go, and photo session ended long before I was ready. We spent the rest of the day cleaning bathrooms and making a tablecloth for my dining room.
Mike (PawPaw) and Mary (Nana) came over for a quick visit before dinner and of course I once agian started clicking away with the camera...in my PJs. Fortunately, my in-laws are great and forgive me when I don't get around to putting on something other than pj pants and worn out t-shirts.
I think Charlotte is starting to look a good bit like her Nana.
Charlotte loves hanging out with her Grandparents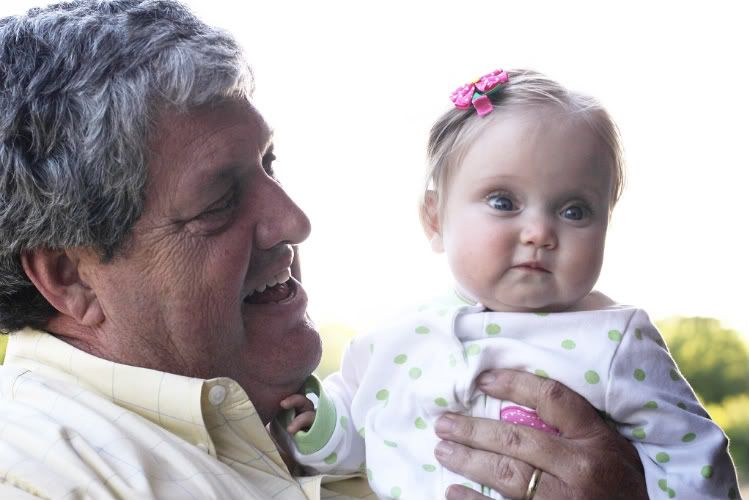 She did get a little sleepy; probably because she was up at 4am yesterday!
She loves her Nana to pieces!
Whenever I look at pictures that I have taken of Charlotte, I have to laugh at how huge her cheeks are! To borrow from my brother's girlfriend Nadia, "She looks like a chipmunk storing nuts for winter."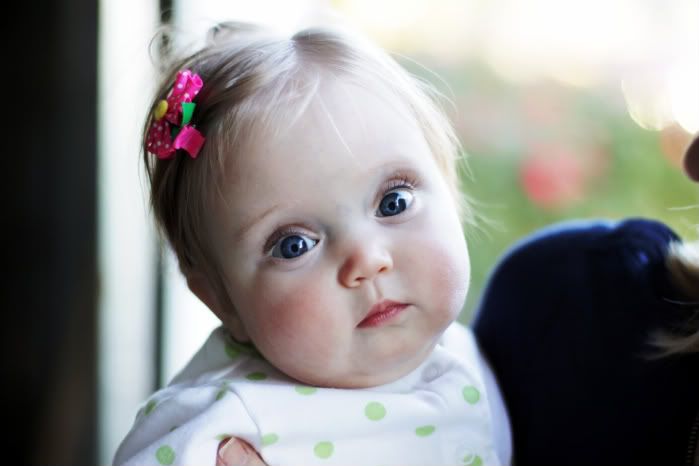 Yesterday evening, Ben and I decided to polish off the oysters he had brought back from a fishing trip with my dad and brother. We ate outside on the back porch and enjoyed the last rays of the sun. Charlotte was a trooper and seemed to understand we needed a little time to enjoy the air. She watched the commotion of shucking oysters from her bouncer and occasionaly cracked a smile as Lilly ran around chasing bumble bees.
My wonderful husband did all the dirty work of shucking the oysters and let me sit back and enjoy the bounty.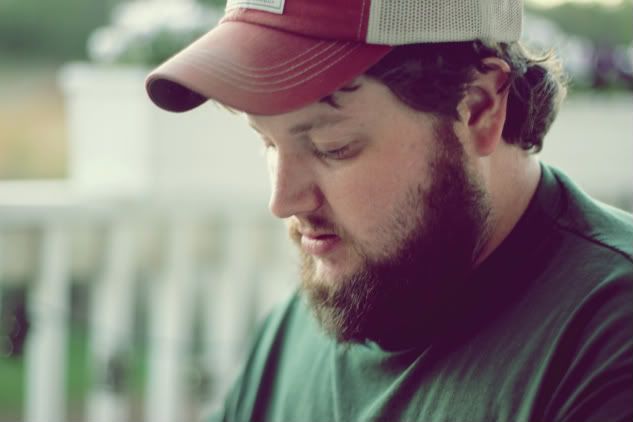 I know many are disgusted by oysters, but for me, it was a perfect meal.
The corn wasn't the best I've had but it didn't stop me :)
Before I know it Charlotte will be asking me to pass the cocktail sauce...it all happens much too quickly.
For now, I'm trying to savor every moment, even the one's where she gets me up at 5am to start the day. That's why God invented: