Today is Charlotte's actual birthday. I know, a whole year has passed! How did it happen so quickly???
We celebrated this past Saturday so that friends and family could attend. I won't lie; I have been crafting for this party for weeks...maybe months. I know that Charlotte will not remember this party. However, one of the reasons I decorated the house was because I enjoy it. Her party was excuse to get out the glitter, glue gun, and go to town. The party was also a way to visit with so many people who have prayed for Charlotte and our journey as a family. I have never felt more love or support than when Charlotte was diagnosed. The community that surrounds us is one I am eternally grateful for and it was wonderful to celebrate with so many of them.
But my main reason was to celebrate not only the birth of our daughter, but also the way the God has blessed us. Through God's grace Charlotte has beaten the odds. Over 85% of children with a shunt due to SB have a malfunction in the first year of life. This does not mean that Charlotte won't have a malfunction. It could happen at anytime. And she is going to the doctor in October to schedule eye surgery. There is also the possibility of hip surgery. But those are the future and we are celebrating what God has done right now. I can't think of a better reason to eat cake and have friends over than no brain surgery!
-----
I will warn you I took zillions of pictures and had a hard time editing :)
The decorations: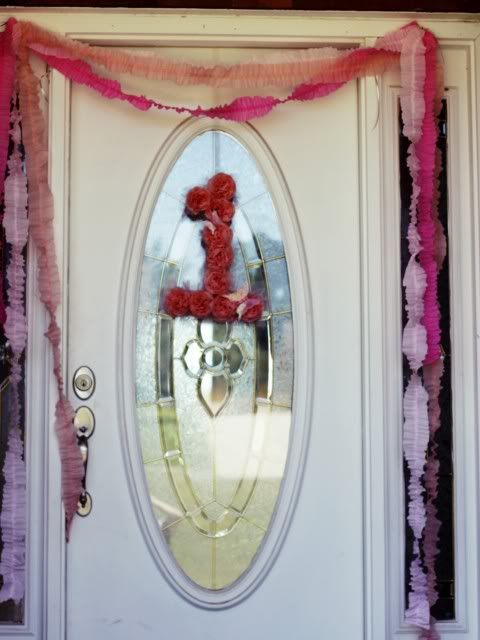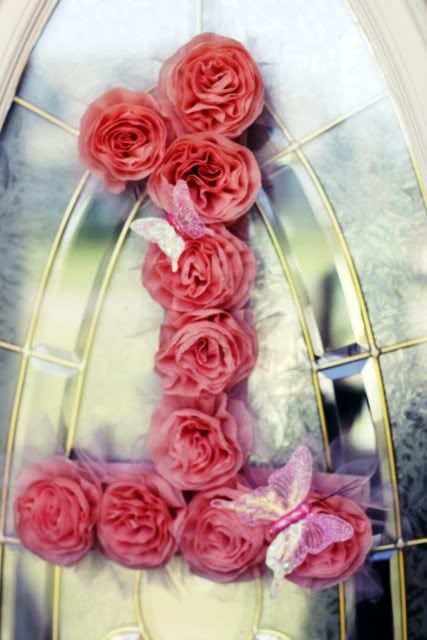 It was a butterfly themed affair.
The banner took forever to make and I probably should have used a stencil for the letters.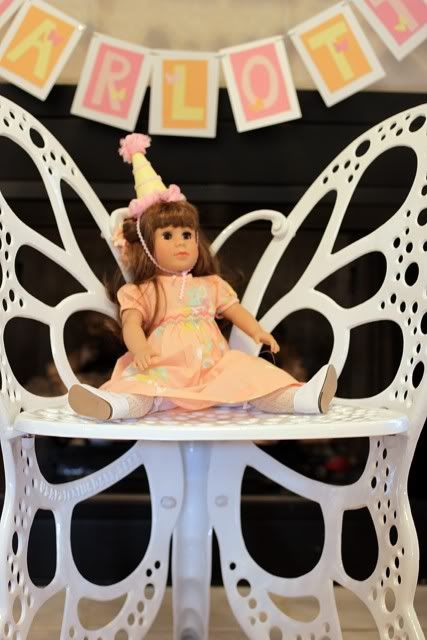 I had to make Charlotte and her doll matching party hats!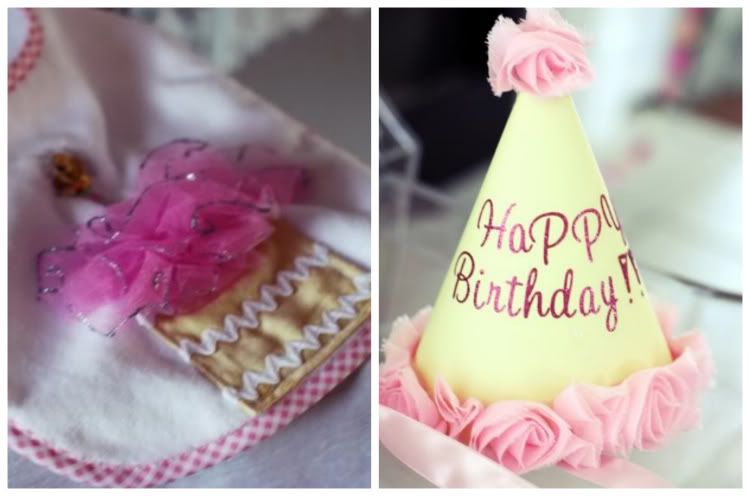 I did a lot of decorating with streamers due to there low cost.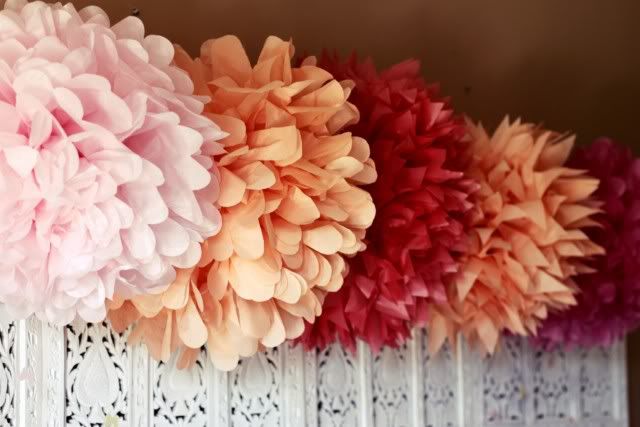 Throughout the house I scattered the verse that that has meant so much to me since Charlotte's diagnosis: Psalm 134.
My most time consuming project by far where Charlotte's initials. I have decided we will put them up every birthday.
This was a take home gift for each of the Grandparents.
Can you tell I love the color pink?!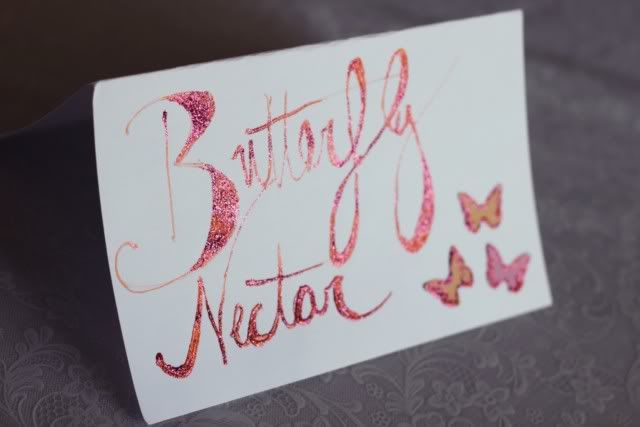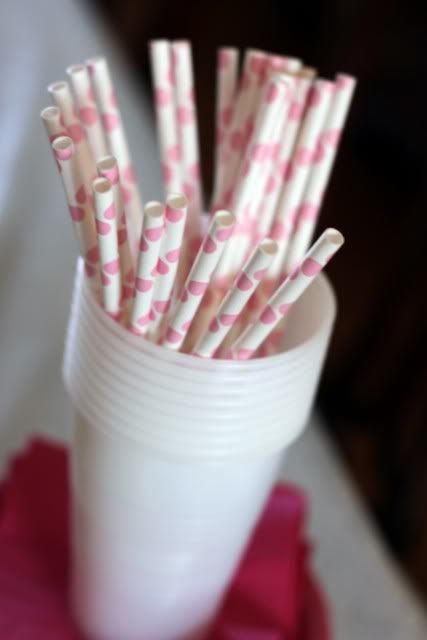 -----
The flowers.
I bought a few filler flowers from Wal-Mart and the rest came from my garden.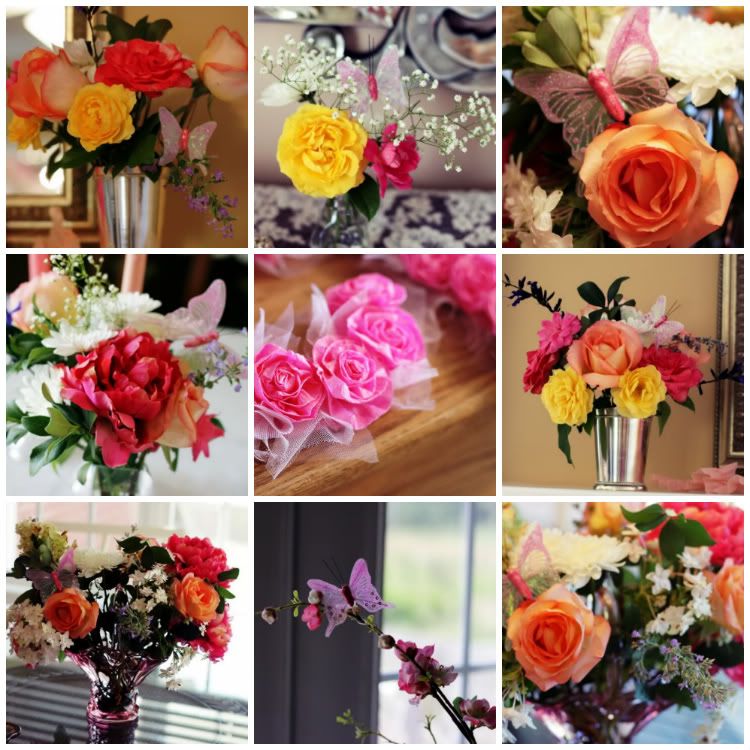 -----
The sweet treats.
I baked and I baked and I baked. But it was fun...most of the time.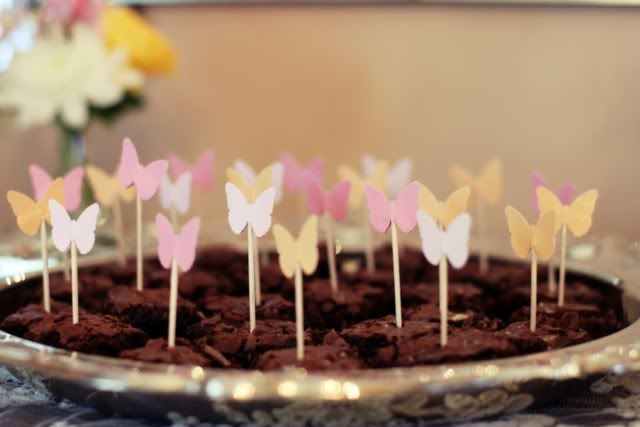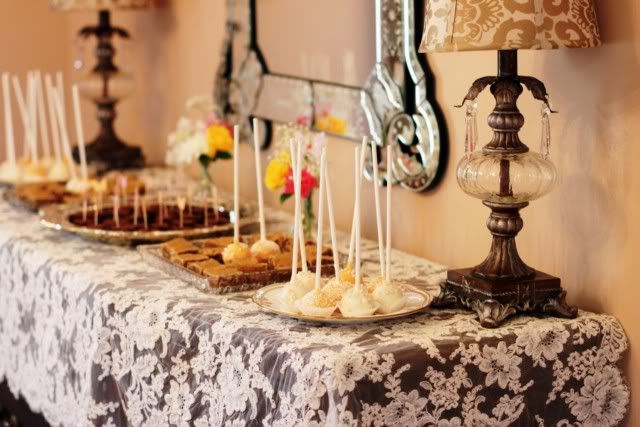 I don't think I'll be making cake pops from scratch again. Next time boxed cake and canned icing will have to do. That, or else Ben says he's staying away the day I make them!
The cake table.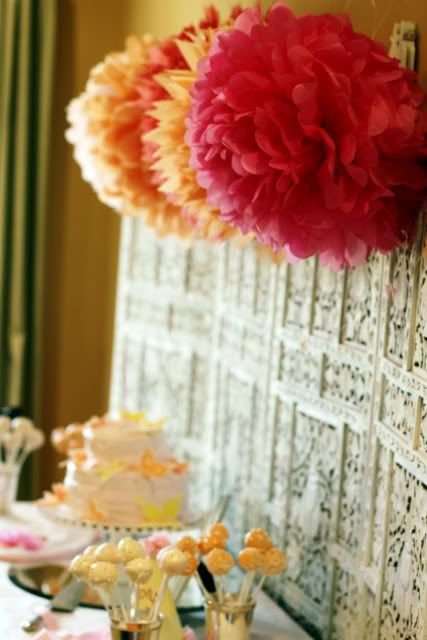 And the cake.
I have a few recommendations. Make an icing that you have tried before. Martha really messed me up this time. The icing tasted good but did not set up right, hence the sloppy look of the cake. And those butterflies! They were fun to make but I think I broke half of them trying to put them on the cake.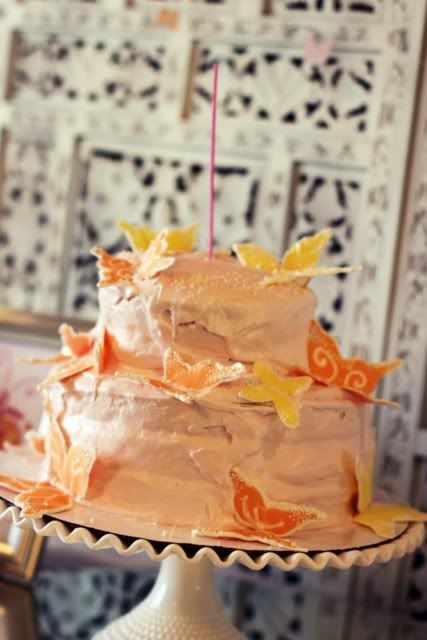 ----
The people.
We had grandparents, great grandparents, and aunts and uncles. It was so fun visiting with everyone.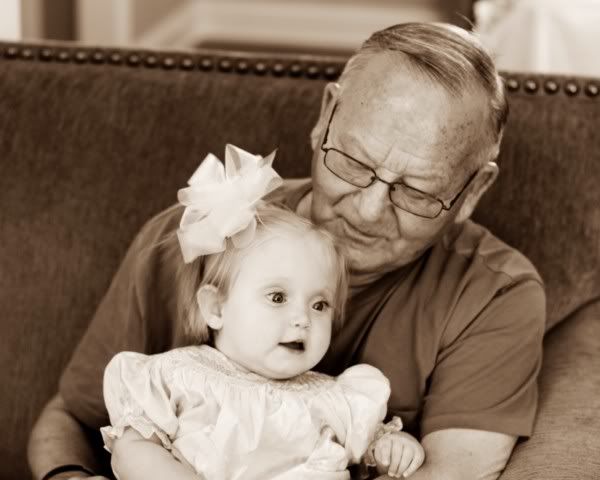 We were grateful that everyone had driven so far and interrupted their schedules to celebrate with us.
And my mom!! I couldn't have done it without her. She came Thursday and was a huge help as always.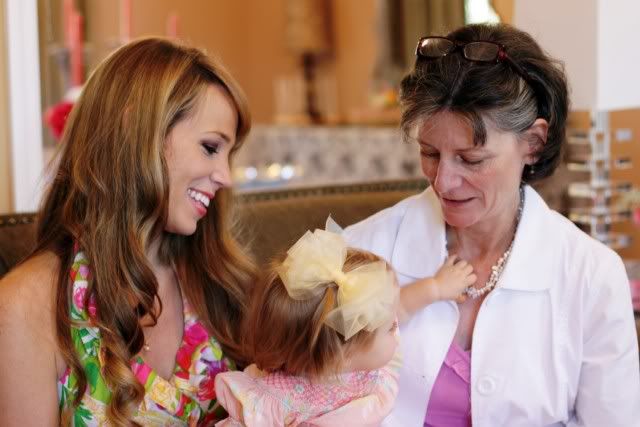 Charlotte with her doll.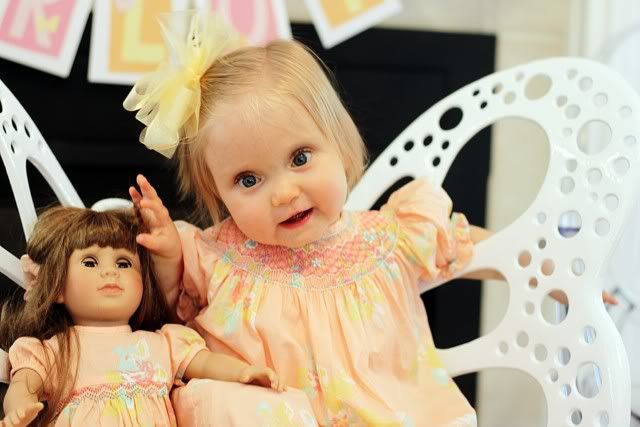 Charlotte's friends.
Charlotte enjoyed her cake.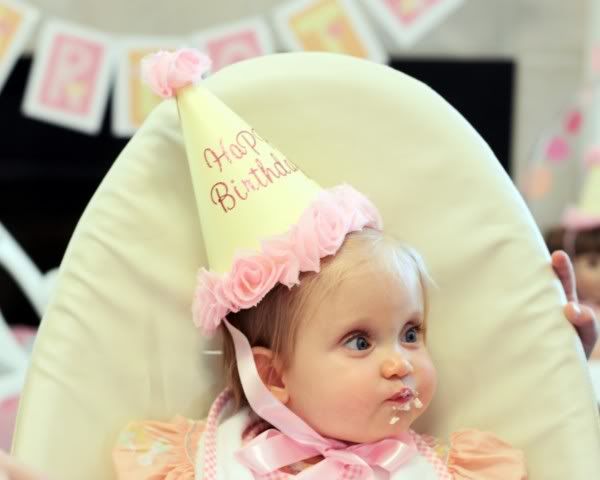 But I think she also loved her audience. All the kids came up to watch and would help put her hat back on when it started to fall down.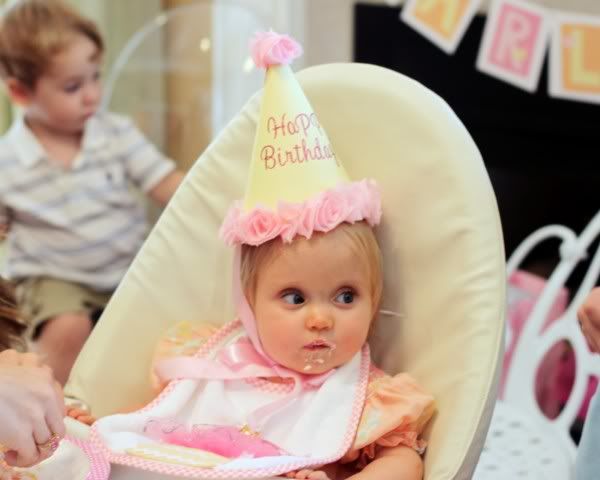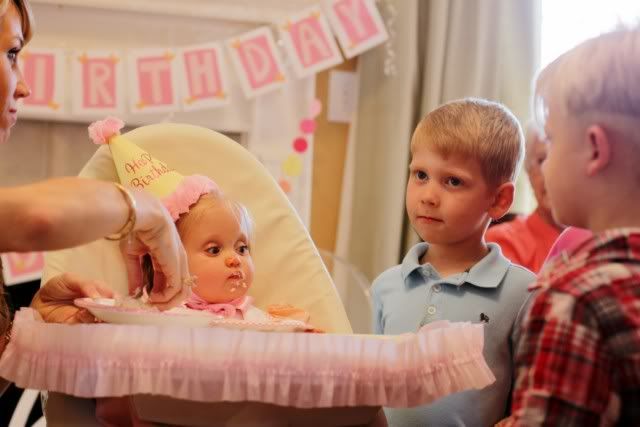 The party came to a close without any major melt downs though Charlotte was exhausted and went to bed early. I doubt I'll go to this much trouble for any other birthdays but it was a lot of fun and we had MUCH reason to celebrate!
-----
I have written this while Charlotte is napping because my plan for every moment she is awake is to just enjoy being with her. I'm going to try not to cry, though I have shed some tears already about this big day. I'm going to feed her squash and cheese, because it's her favorite. I'm going to leave piles of laundry on the floor so we can play with puzzles. I'm going to take her for a walk around the garden cause she loves being outside. I'm going to be patient when she fusses, because sometimes I'm not. I'm going to pick her whenever she reaches for me, because I know one day she won't. I'm going to skip reading blogs and read to her instead. I'm going to cheer, encourage, and thank God as she rolls around, tries to crawl, and begins to master sitting up, because she has come such a long way!