I am writing this because I know so many of you have been such great prayer warriors for our family. And we could use some prayers right now.
Charlotte is doing well but last night our dog Lilly bit Charlotte in the face. I will admit that I panic because there was so much blood. We took Charlotte to the emergency room. There was a fairly deep gash on the bridge of her nose near her left eye that we thought would need stitches. There were two more, smaller teeth marks under her eye and both lips were punctured. Fortunately, they were able to use glue instead of stitches since the skin is looser in this area. Charlotte was an amazing trooper during the whole affair.
At the time it happened I could have killed our dog I was so angry and horrified. Charlotte is extremely gentle natured and did nothing to insight this. They were both at my feet and I was opening the refrigerator. The only guess I have is that Lilly was thinking about food. But she lunged at Charlotte before I could do anything.
I knew and have not questioned for a moment that Lilly would have to go but it has been more painful than I would have guessed. Since Margaret's birth Lilly has often seemed like a nuance at times, barking and waking the girls up, rolling in stinking stuff, and peeing on the floor. Yet, I still love that dog and Ben loves her more than ever. Charlotte was starting to have so much fun playing with Lilly. I don't think she even realizes what Lilly did and has continued to ask for her today.
Lilly was our baby before we had any. I have loved dogs my whole life and begged Ben for one when we got married. He caved and I went to the pound and picked her out myself. She is an actively dog but sweet as well. She was a constant in years that have changed so much. And as anyone who owns a dog knows, dogs love you no matter what, without judgment.
She loved Ben and me. I think the problem is that she loved and was loyal to Ben and me but had no loyalties to our children. We were afraid she would have to go to the pound but a young couple agreed to take her.
I look at Charlotte's face and still am horrified by the ordeal but then I see all the places were Lilly would have been and cry. My eyes are nearly swollen shut from all the tears I have shed today.
Charlotte continues to ask and look for Lilly, too young to understand it all.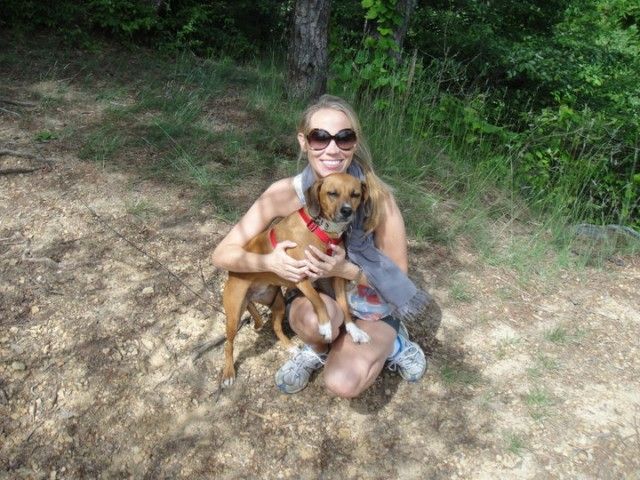 We would so appreciate your prayers right now. We ask that God would give us comfort amidst the pain. This has been a very trying summer and the trails seem continuous. Lilly having to leave our home is just one of a few pains this summer has offer up. She is just a dog but she will be dearly missed.