"Oh sweet Jesus if you're listening, keep me ever close to you
As I'm stumblin', tumblin', wonderin', as I'm travelin' thru"
We got back Sunday from a trip to the beach with my family and it was great. We headed down to St. George Island Monday, stopping in Auburn for a night to break up the trip. The only thing that would have brightened the vacation is if my brother Will and his girlfriend Nadia could have joined us. But we had a fairly full house with my parents, my brother Henry, my sister-in-law Dana, my niece Lia, and my grandparents Grammie and PawPaw.
And if you are wondering, Peanut did continue to make me feel fairly nauseous but the distraction and help of family was a welcome break. It was kind of sad being at the beach and not being able to stomach sea food. However, I did discover that I love white toast with peanut butter.
I brought my camera, thinking I would take beautiful beach portraits and zillions of pictures of Charlotte playing in the sand. My photography skills are in serious decline because Wednesday was the only day I managed to snap any shots. It was due to the chilly weather we had, my own fatigue, and a baby who had a serious aversion to the sand. Charlotte loved the shells, the waves, the birds, but took up a strong dislike to the sand. We sat her in it, granted it was cold and windy, and she immediately started to cry.
She did enjoy strolls on the beach and observing the wonder that the ocean can display.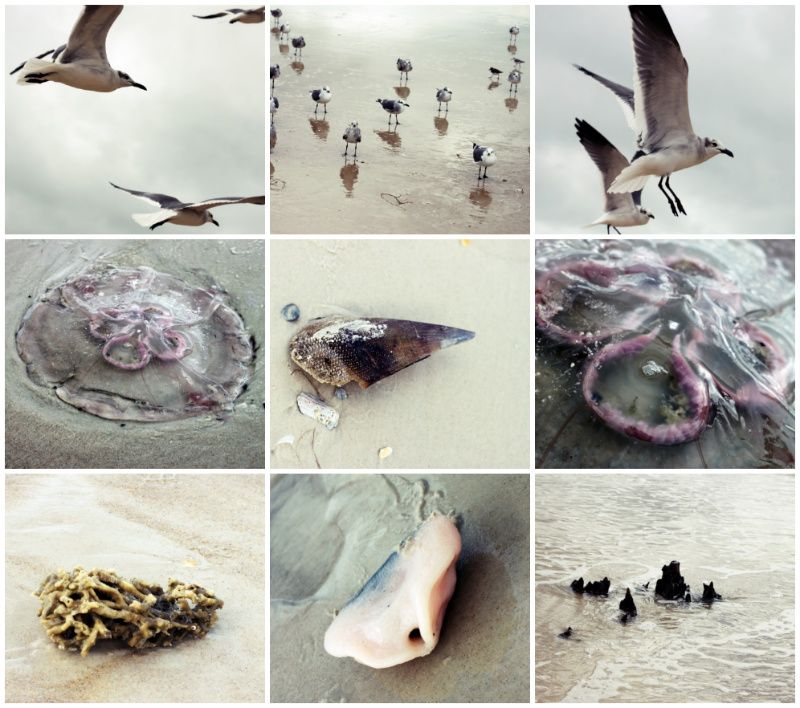 We fed the seagulls and Charlotte seemed to get a kick out of watching all the birds swooped down and fight for pieces of bread. Lia however, was not a fan and I can't blame her. It was almost disconcerting how close they came.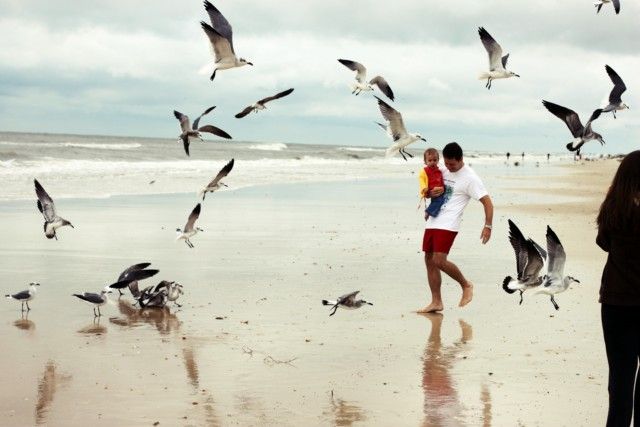 Henry's favorite part was running them off!
It was so nice to bring the girls on their first beach trip while being able to enjoy the company of family.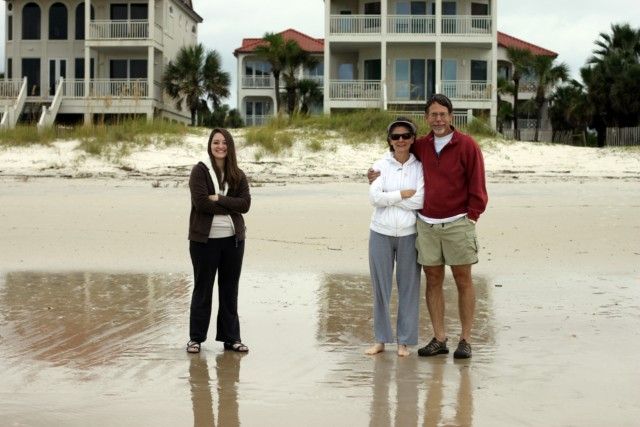 I am hoping this will be the first of many joint trips to the beach and that Lia's love of the sand will rub off on Charlotte.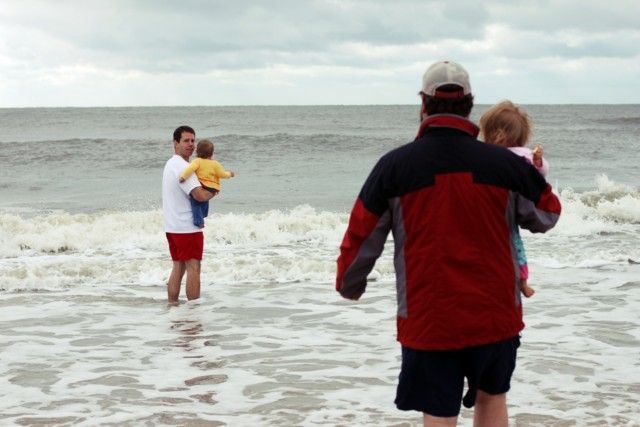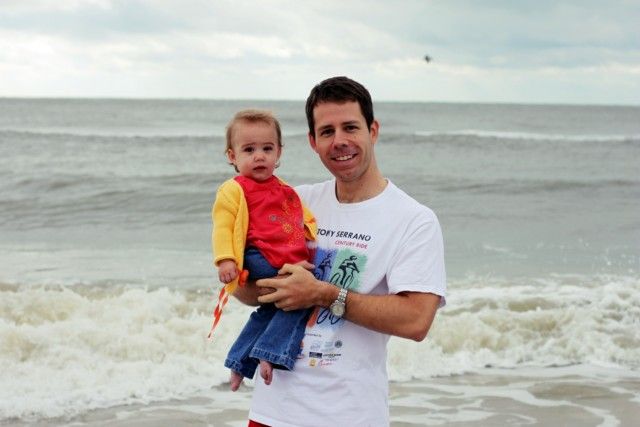 I would love it if my parents continue to join us as well because Charlotte is always happy in their presence.
I think about my own grandparents and how much I enjoyed them as a child and continue to now. There is a special bond there and it is wonderful to see my own daughter develop this bond.
There is so much love to be had and it is such a blessing knowing that peanut will be surrounded by it as well.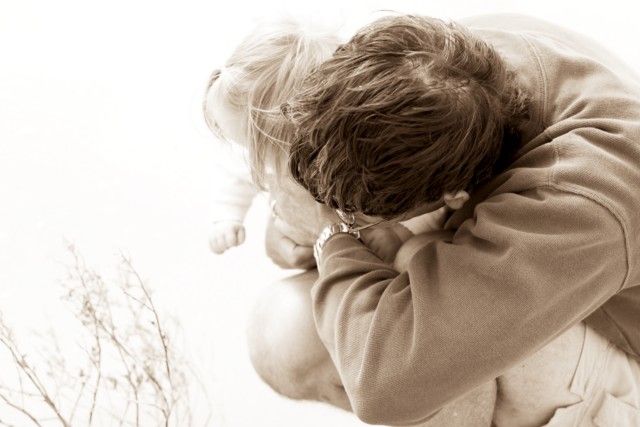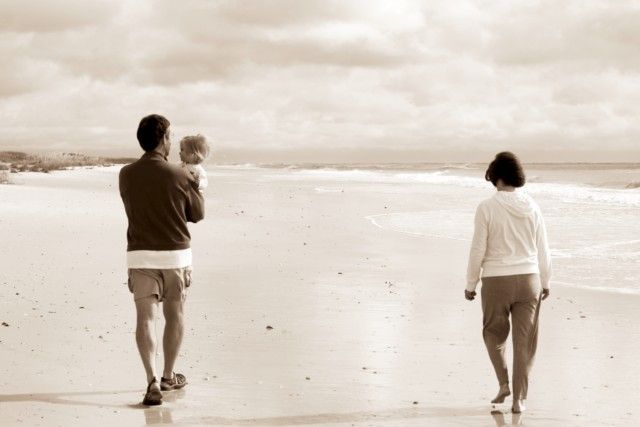 It is always a joy to see my daughter interact with loved ones and I love being around my family. Those were definitely highlights of the trip. Yet, my favorite moment might have been playing in the ocean with my brother. When Henry and I go to the beach we forget that we are grown ups and revert back to our 10 year old selves. We belly surfed on big waves. We sputtered as gallons of salt water went up our noises. We found sand dollars and let them tickle our hands as they tried to escape. We hummed the soundtrack to Chariots of Fire as we tried to run through waist deep water. We froze when we finally got out and laughed as we tried to get under the warm spray from the hose to rinse sand from our feet. We had a blast and though I have no pictures of our craziness it will be a cherished memory.
The beach was wonderful and family was a huge help when I was feeling nauseous and tired. I look forward to the next trip when our family picture will contain four instead of three faces.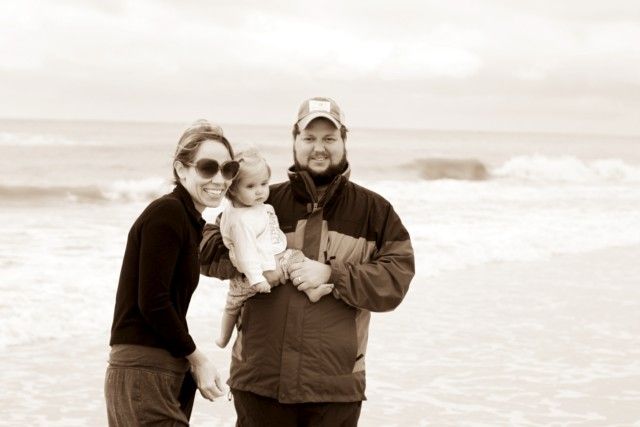 We head to Birmingham tonight because Charlotte's SB clinic is Wednesday. Thursday she meets with the ophthalmologist to discuss possible eye surgery. I am trying not to be anxious, knowing that it does no good. But it is tough. The possibility of eye surgery and the more major hip surgery looms in our future. I know that God is sovereign over all things and there would never be a time when I would want my daughter to undergo surgery. Yet, she still seems so young; too young to understand it is necessary; too young to understand it is needed for her health. I would ask that you pray for wisdom from her doctors and courage and peace for me; that I would be able to say "it is well" no matter the outcome.
I'll leave you on a happy note.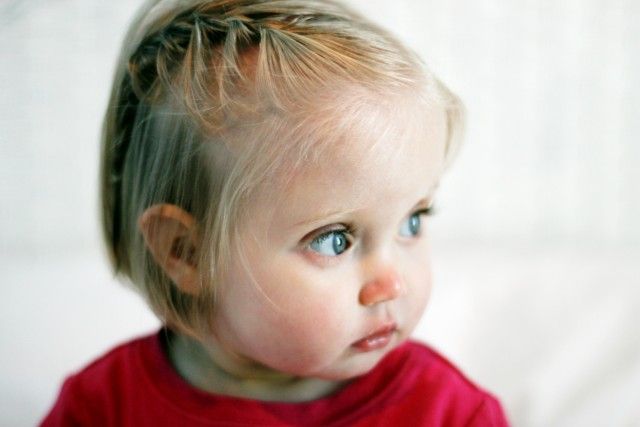 Charlotte's first tiny French braid :)